Marine Cargo Insurance
Marine cargo insurance is highly recommended on all cargo being shipped internationally. It is certainly not our intention to worry or alarm you but rather to educate you in the importance of having proper marine cargo insurance.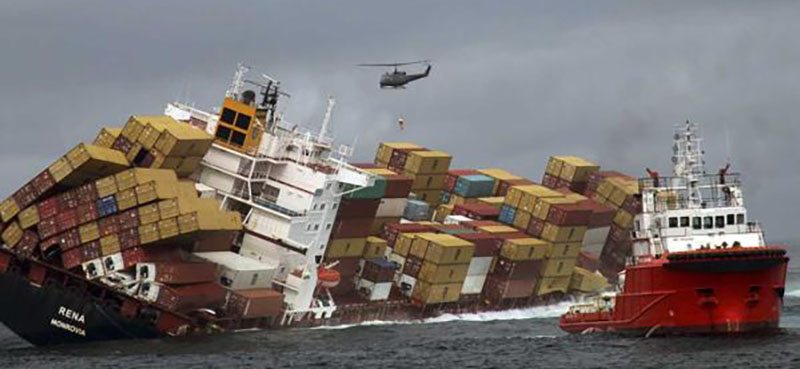 Containerization has revolutionized the ocean transportation of cargo that it is today. Container ships have been travelling the seas for decades and we are now seeing larger and larger container ships being built.
The first generation of container ships was built for carrying just two tiers of containers on deck. Today's vessels are now capable of carrying 8,000 – 10,000 containers on a single vessel, with tiers of up to 8 high on the deck of the vessel. Although this represents a tremendous economy of scale in transporting containers, we have seen a number of highly publicized incidents, involving the loss of large numbers of containers falling overboard, during a vessel's voyage. These incidents have resulted in additional damage to hundreds of other containers aboard the ship, as well as endangering the safety of the ship itself.
All steamship lines have a maximum liability of only $ 500.00 per shipment. It is known as COGSA – Carriage Of Goods Sea Act. COGSA is a U.S. Federal statue governing the rights and responsibilities between shippers of cargo and ship-owners, pertaining to ocean shipments to and from the United States. Therefore, if you do not have proper marine cargo insurance and your cargo is damaged, lost or stolen, while in route to it's overseas destination, the maximum amount which you can recover from the steamship line is only $ 500.00. Consequently, it is very important to have proper marine cargo insurance.
All Shore Forwarders is able to provide marine cargo insurance from top rated insurance companies which specialize in marine cargo coverage.
Due to the importance of marine cargo insurance, we welcome all and any questions on the subject.